Gen-Tracker is the only truly universal monitoring solution for standby generators
Gen-Tracker is a cloud-based, event-driven solution that monitors a generator's critical functions 24 hours a day. When a change in status or failure occurs, you and your service company will be notified via SMS text message and/or email.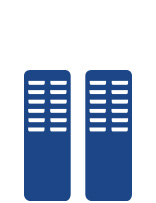 Gen-Tracker Data and
Processing Center
Email and Text Notification
Get proactive.
Get Gen-Tracker.
With Gen-Tracker, you have the information you need to take action.  You can resolve any problems during normal operating hours, saving you time and money. That means no more unexpected outages.   
Residential
Generators are a lot like vehicles. They require regular operation along with a routine schedule of maintenance to prevent their engines from seizing or failing during an emergency event. But because you aren't checking your generator every day, you may miss problems as they arise. Entire generator failures may even go unnoticed until that next outage event — and you'll  be left in the dark waiting for generator service that can cost twice the regular service rates.